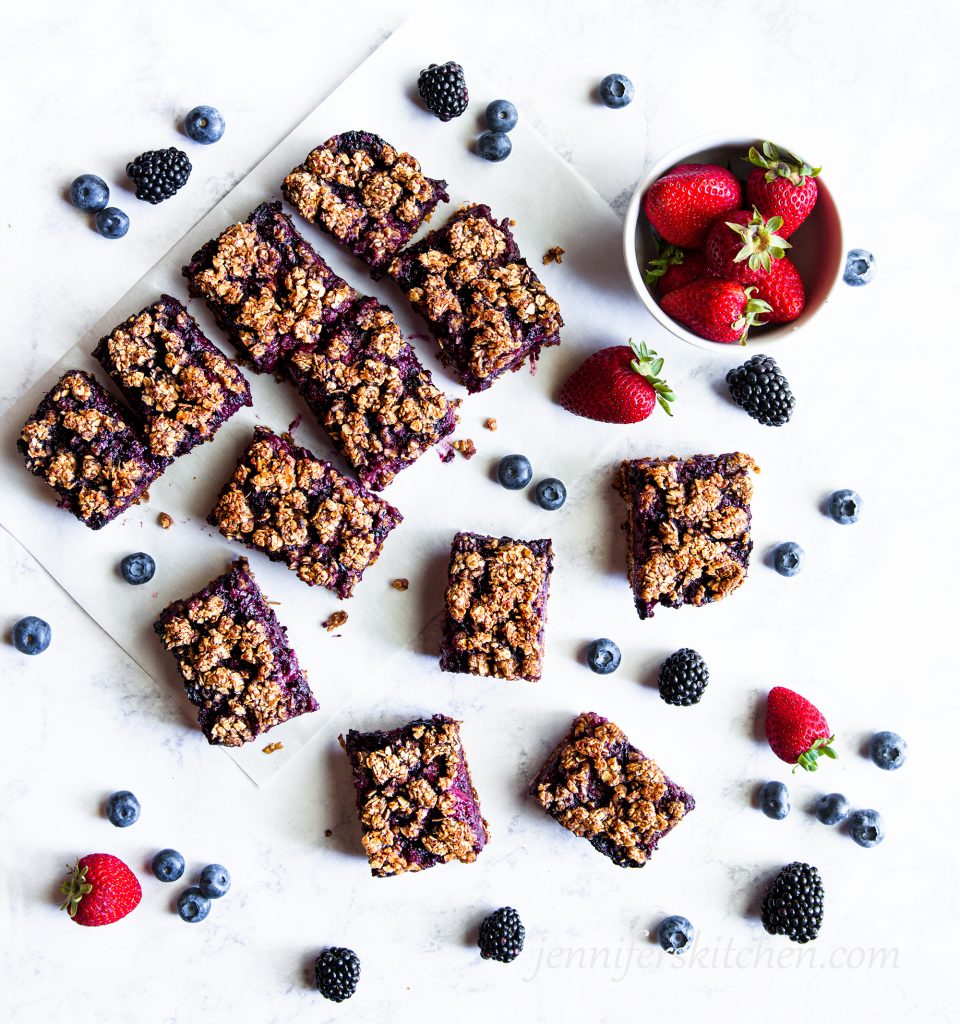 Put that cereal down! These Sugar-Free Berry Breakfast Bars are gonna change your breakfast game this summer.
Why you'll love this recipe
It's made with easy-to-find ingredients.
It's sugar-free. No white sugar. No "unrefined" sugar. No honey. No stevia. No maple syrup.
It's so good-for-you, you can eat it for breakfast. every day.
It's gluten-free.
It's easy to make.
It's loaded with anti-oxidants and other nutrients
Berries Good Health Benefits of Berries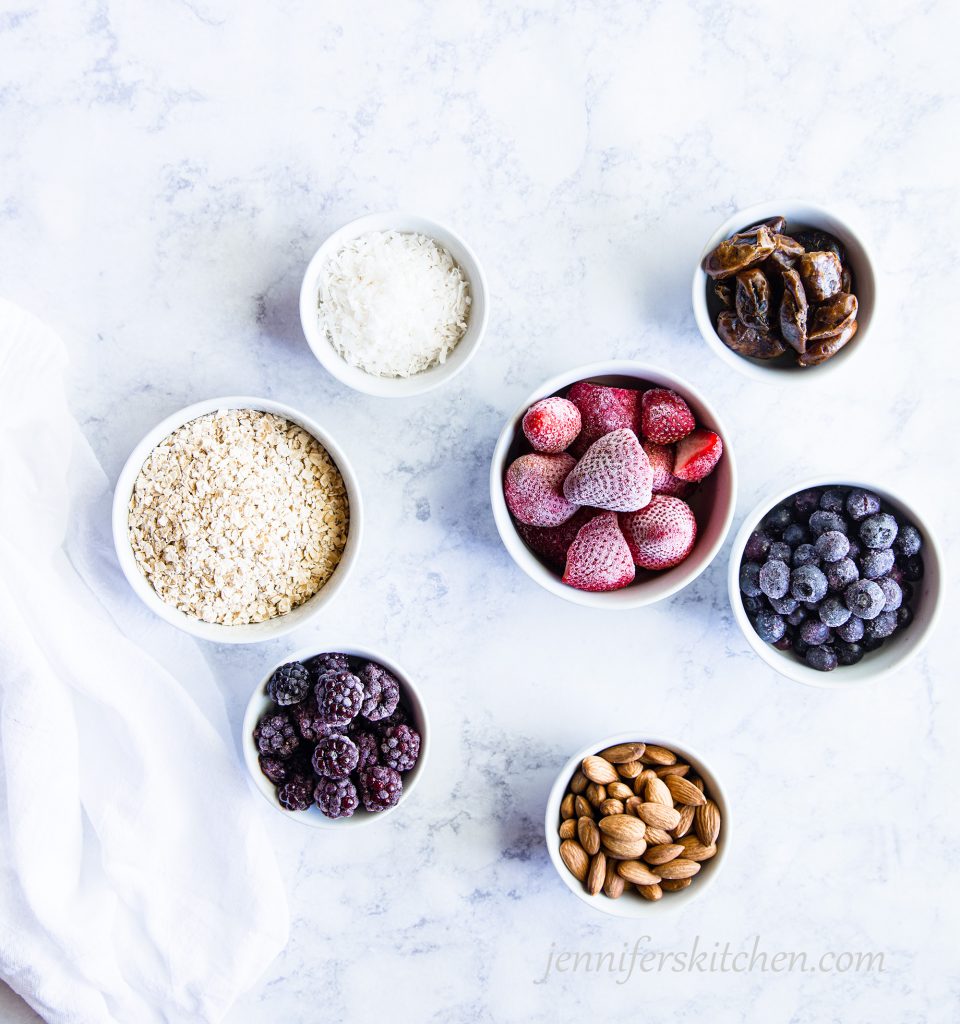 Berries provide you with a number of benefits for your health.
1. Berries can help with weight loss.
2. Berries can help keep blood sugar and insulin levels more stable.
3. Berries are loaded with antioxidants, which protect your cells and reduce your risk of disease.
4. Berries help fight inflammation.
Tips for Making Sugar-Free Berry Breakfast Bars
1. Line your pan with parchment paper for easy removal.
2. Make these the day before serving for a quick breakfast in the morning. Because who doesn't like a healthy breakfast waiting for them in the morning?
3. Allow the bars to cool before cutting. The cooled bars cut much easier.
4. Use quick cooking oats.
Does Sugar-Free mean less delicious?
(Asking for a friend)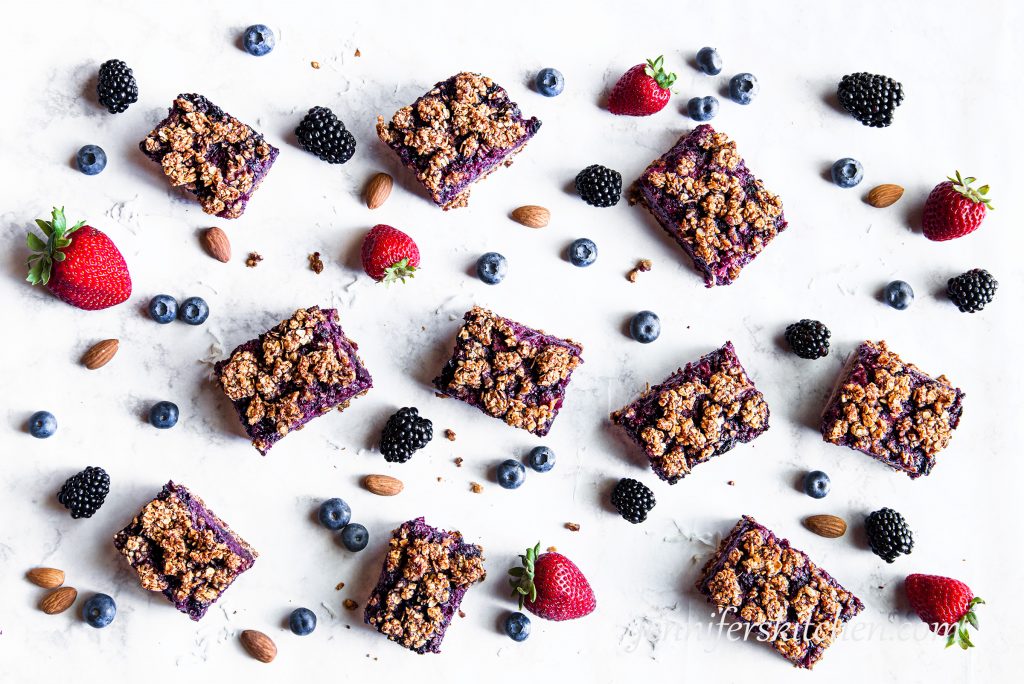 So, these Sugar-Free Berry Breakfast Bars are … well … sugar-free. Please, do not pursue me with digital daggers if these Sugar-Free Berry Breakfast Bars don't taste like the other berry bar that you found on the internet that was made with a pound of butter and 2 cups of sugar.
My goal was to create a berry bar that was healthy enough to eat for breakfast – and still tasted delicious
Not sweet enough for you? Put the dagger down and add a little date sugar or maple syrup to the oat mixture.
Serving options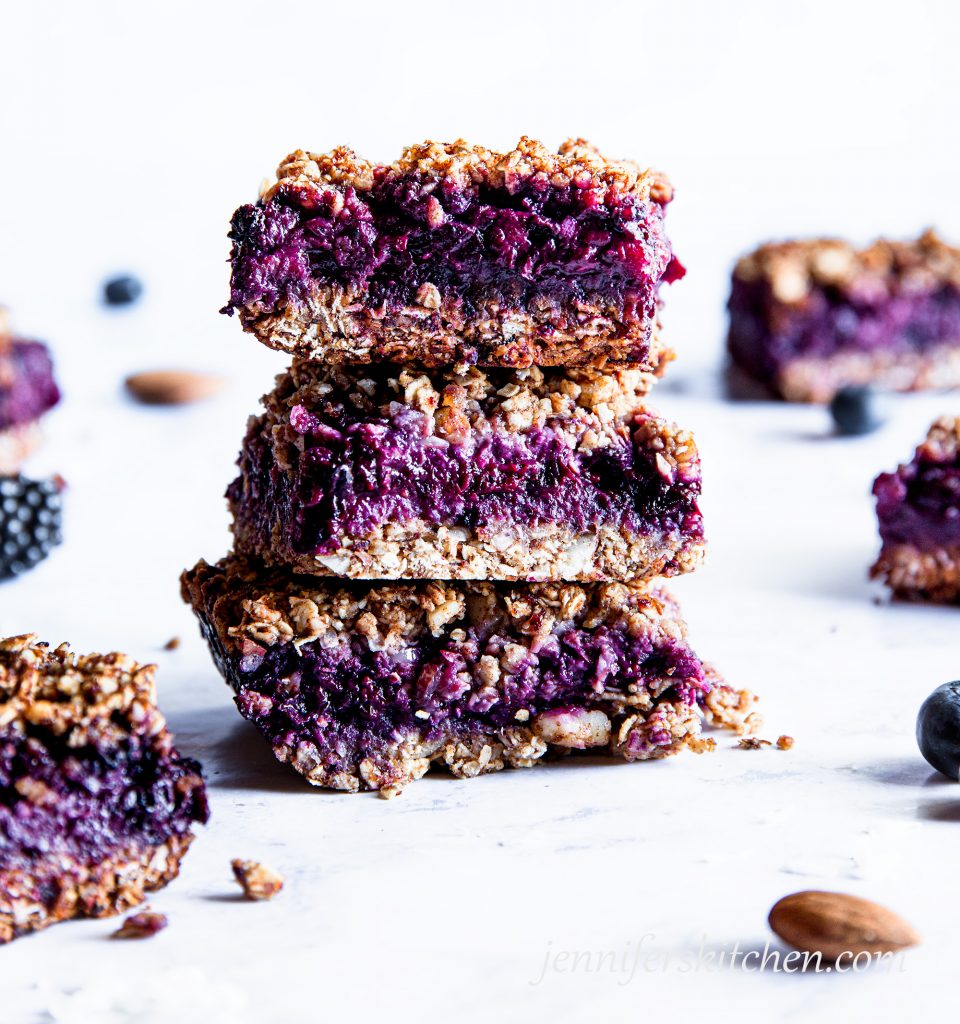 This website is brought to you without annoying ads because we can better live healthier lives without the influence of marketing. But running a high-traffic site is expensive. How can you help? If you purchase anything through the affiliate links on my site, your cost is the same, but I receive a small commission. Thank you!
These bars make a great breakfast by themselves or with some fresh fruit. We also like them served along side this yummy Harvest Oatmeal or this Breakfast Rice.
Can I Use Fresh Berries?
These bars work best with frozen berries, which is convenient because you may not always have fresh berries on hand, but you can always have some frozen berries tucked away in your freezer.
Can I Freeze these Sugar-Free Berry Breakfast Bars?
Yes, these Sugar-Free Berry Breakfast Bars freeze great.
Heat them in a low oven before serving or simply thaw and eat.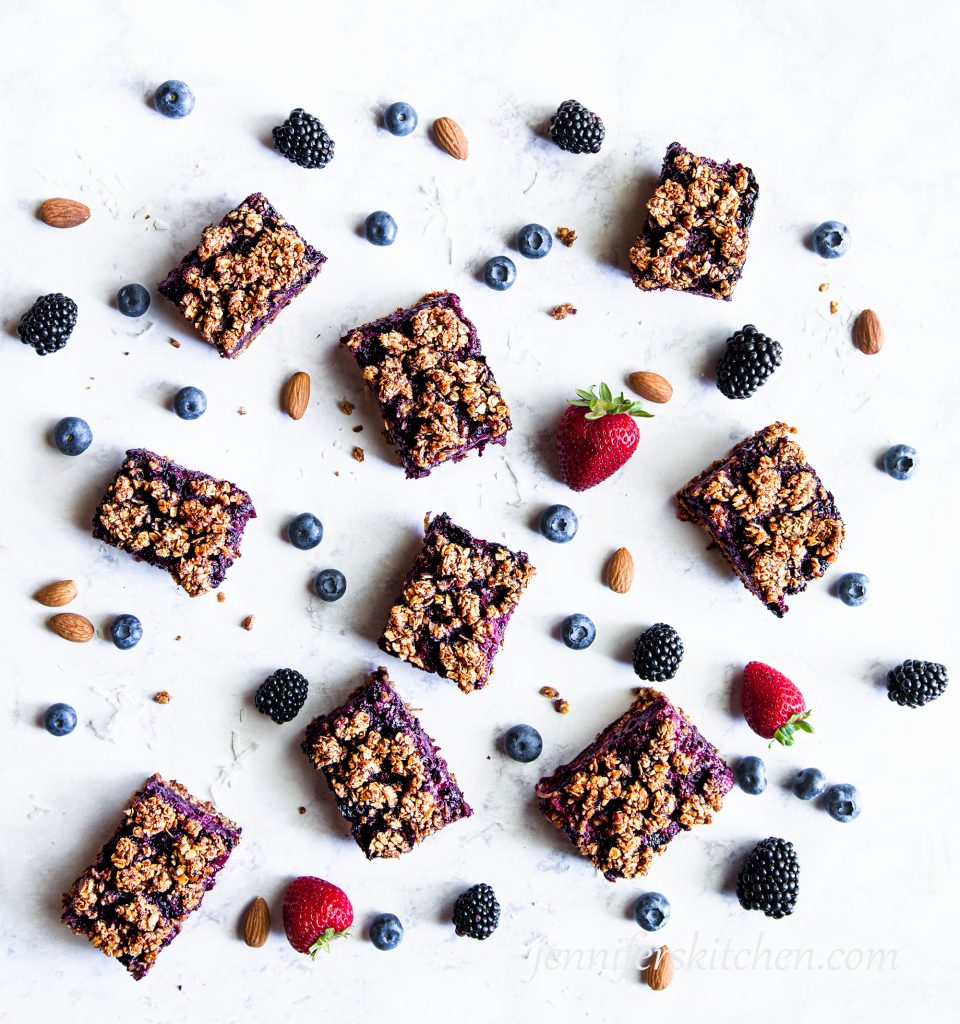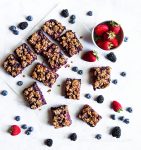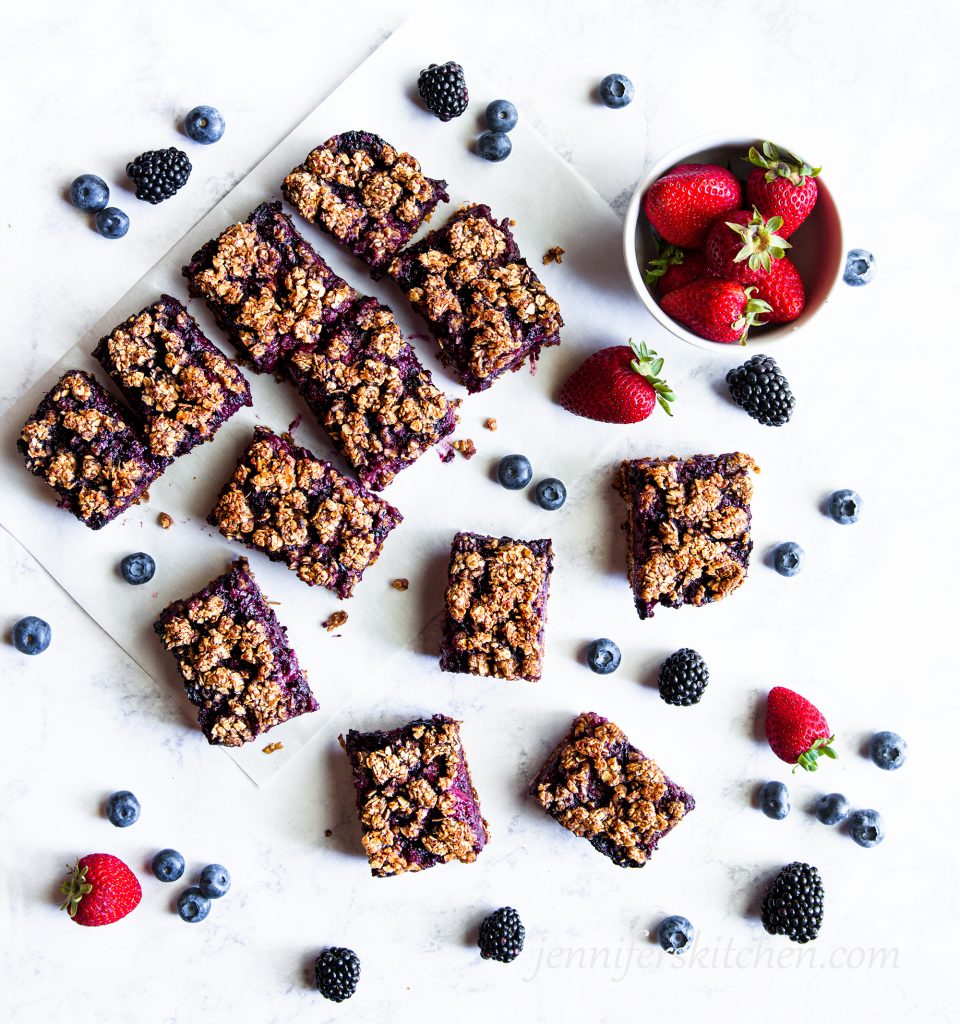 Sugar-Free Breakfast Berry Bars
These delicious and nourishing Sugar-Free Berry Breakfast Bars will get your day off to a healthy start!
All recipes on jenniferskitchen.com are property of jennifer's kitchen and cannot be republished without written permission.
1 1/2

cups

pitted dates

1/3

cup

apple juice concentrate

2/3

cup

raw almonds

1/3

cup

shredded coconut

–

(unsweetened is best)

1 3/4

cups

quick oats

3/4

teaspoon

salt, scant

1

teaspoon

vanilla

1 3/4

cups

frozen strawberries

1 1/3

cups

frozen blueberries

3/4

cup

frozen blackberries
1. Preheat oven to 375°F.

2. Place dates and apple juice concentrate in a saucepan. Cover with a tight-fitting lid and bring to boil. Reduce heat and simmer over low heat for 2 to 3 minutes or until dates are very soft.

3. Place almonds in a food processor and process until finely ground.

Add coconut, oats, and salt and pulse just until mixed. Transfer to mixing bowl and push to one side of the bowl.

4. When dates are softened, transfer dates and apple juice concentrate mixture to a food processor. Add vanilla and process to make a fairly smooth date paste. Transfer date paste to empty side of mixing bowl. Don't mix yet! Set aside to allow to cool for 5 minutes.

5. Meanwhile, place berries in a food processor. (No need to wash out food processor.) Pulse until berries are chopped medium-fine. Set aside.

6. Mix together date paste and dry ingredients just until oats are evenly moistened with date puree. Don't overmix. I find the best way to do this is to mix it quickly with a fork and then finish with hands by crumbling the large pieces apart with fingers.

7. Press 3 cups of the oat mixture evenly into an oiled 8 x 8 baking dish.

Spread chopped fruit mixture over oat mixture in baking dish. Press fruit mixture down with a fork.

8. Distribute remaining oat mixture over top of berry mixture and very gently pack down.

9. Bake uncovered at 375°F for 40 to 45 minutes or until nicely browned.

Serve warm or at room temperature.
Please note that while this bar is delicious, if you are not used to sugar-free eating, it may not be sweet enough for you. If you prefer a sweeter bar, please see notes about this in the post.
* * * This recipe from Jennifer'sKitchen.com for Sugar-Free Berry Breakfast Bars is . . . gluten-free, plant based, oil-free, sugar-free, high in fiber, dairy free, egg-free, vegetarian, vegan, and made from real, whole foods.
>> One quick request: if you like this recipe, please leave a rating and a comment. Ratings help more people find these healthy recipes!
Print Recipes
You my also like: